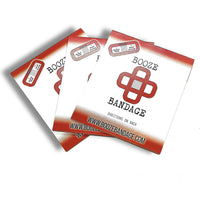 What is Booze Bandage?
Booze Bandage is a hangover prevention patch containing all natural Thiamine, commonly known as B1 vitamin.
Thiamine is a necessity for a healthy immune system and it has also proven to be effective in preventing and recovering from hangovers. B1 is deemed one of the safest, and most effective vitamins to help cure that unwanted hangover. However, it is not nearly as effective when taken orally.
Booze Bandage hangover patches combine potent B1 vitamin with transdermal technology to deliver a natural, safe and effective hangover cure directly to your blood stream. 
VIEW HANGOVER PATCHES
How it Works
Transdermal technology was introduced in the early 1970's by biotechnology innovator Alejandro Zaffaroni, and first approved by the FDA in 1981. Dermal patches became more well known when nicotine patches hit the market.
Booze Bandage utilizes this same technology in a time-release patch that is applied to your skin in a clean, hairless area. The hangover prevention patch releases B1 vitamins into your system for up to 8-12 hours, depending on how your body absorbs the vitamins. 
Order Now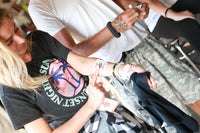 Thiamine (B1) Deficiency Explained
Thiamine, or vitamin B1, was the first compound to be recognized as a vitamin and as essential to the human diet.
Thiamine deficiency disorders can be serious or even fatal, causing heart failure (beriberi) or neurodegeneration with dementia.
Learn More About B1 Deficiency >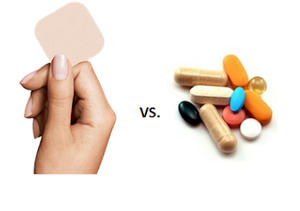 Why Transdermals Work Better than Pills
Ethanol from alcohol reduces gastrointestinal absorption of thiamine necessary to help your body recover from a hangover.
Transdermal B1 patches bypass the harsh digestion process by entering your blood stream directly through your skin.
Hangover Pills vs. Patches >
See what our customers are saying
I tried booze bandage on our annual trip down to Texas. Basically a party that lasts for 4 days and every morning I got up, I felt amazing! I highly recommend booze bandage especially if you get bad hangovers.

Jared M.
I have used the Booze Bandage 2 days in a row while at WDW Epcot Food and Wine Festival and have felt great (even though it's been really hot). I will definitely be ordering again.

JoVonn G.
Bought a whole bunch of these for my girlfriends bachelorette. With the way they drink, I was skeptical. We just woke up feeling fabulous! These are the real deal! I will always get these for big outings!

Ana A.
Awesome hangover free bachelorette party with the booze bandages! Also, excellent customer service! Highly, highly recommend!

Abby C.
Love these! Used these back to back for two days when a friend came to visit and we went out drinking. Definitely felt better the day after!

Jessica H.
I was very skeptical at first but after this NYE to NYD transition I was SHOCKED at how well I bounced back the next morning. Totally owe it all to my Booze Bandage!

Joseph S.
Love this. We are old and practiced drinkers. The booze bandage has been a balm for our mornings. Thanks BB.

s.

Patricia F.
We gave these as part of our wedding party gifts and then a few to close friends they are seriously amazing! I was so afraid of feeling like crap after my wedding and I feel amazing! Thank you so much!

Heather L.
Honestly, I was skeptical but this product works, friends and I tried them and they have wicked hangovers and below are some of their thoughts after having tried it after a long day of drinking:
-"Hmm… considering how much i drank I think it did, felt pretty tired yesterday but wasn't that hungover. Success!"
-"The booze bandage helped a bunch! But I just didn't get a lot of sleep lol."
-"I think so! Completely wiped, but no hurties"

Give Booze Bandage a shot, you will thank me later

Max G.